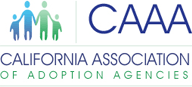 CAAA provides for two kinds of Membership:

Full Members are adoption agencies (public or private nonprofit) that are licensed by the State of California to provide Domestic, International and/or Independent adoption services within the State.

Associate Members are individuals or organizations whose affiliation with CAAA is deemed to be valuable.

Full Member Benefits:
Full Agency members are entitled to one voting representative. Additional agency representatives are encouraged to attend and participate fully in committee activities as non-voting members. Full members are entitled to listings of each office in the roster including web site and email links as well as CAAA meeting minutes, Voice For Adoption information, and any other pertinent local or nationwide adoption information. Meetings of CAAA are open, and those concerned with the practices and problems of adoption are welcome to attend.

Associate Member Benefits:
Associate members are not eligible to vote, but are listed on the CAAA roster and web site, receive notices of meetings and minutes from previous meetings, are encouraged to serve on committees, attend meetings, and represent CAAA as approved by the executive team. Individual associate members are responsible for being current on the latest changes in state adoption regulations and state and federal legislation effecting adoption practice.

Dues:
Annual membership dues are for Full members are $250.00; annual dues for Associate members are $175.00.
Membership Application:
To apply for membership, please fill out the form. In your membership description, please indicate whether you are applying to be a Full Member or an Associate Member.
Membership Application