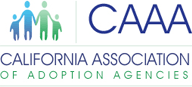 The California Association of Adoption Agencies (CAAA) is a nonprofit, professional organization of over 70 licensed public and private adoption agencies.

Our members are committed to:

Placing waiting children with safe, permanent, loving adoptive families.
Establishing ethical standards for adoption policy in California
Advocating for legislation that protects children and families.
latest news
Adopt International: We're Hiring!
JOB TITLE: Social Worker START DATE: Sept 1, 2022 COMPENSATION: Exempt, Full Time $63,000 - $70,000 – 40hrs/week, benefits medical, dental and FSA after passing intro period. Adopt International…
read more >
Family Connections Christian Adoptions: We're Hiring!
ADOPTION SOCIAL WORKER NEEDED (2 positions available). This is a full-time position working in the Sacramento office or Fresno office of a statewide, full-service adoption agency. This case management…
read more >
Family Builders' Webinar Support Group Series
Are you an Adoptive or Foster Family living in California? Register now for the Navigating Birth/Adoptive Family Relationships Parent Support Group! Research has confirmed what professionals have believed…
read more >