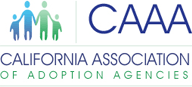 The California Association of Adoption Agencies (CAAA) is a nonprofit, professional organization of over 70 licensed public and private adoption agencies.

Our members are committed to:

Placing waiting children with safe, permanent, loving adoptive families.
Establishing ethical standards for adoption policy in California
Advocating for legislation that protects children and families.
latest news
Family Builders' Webinar Support Group Series
Are you an Adoptive or Foster Family living in California? Register now for the Navigating Birth/Adoptive Family Relationships Parent Support Group! Research has confirmed what professionals have believed…
read more >
Holt International: Stars on Ice
Holt International: Stars on Ice! Holt International is looking for volunteers for Stars on Ice 2022 in these two cities: Anaheim, CA and San Jose, CA. As a volunteer, you'll hand out materials,…
read more >
iThrive Summer Group
This group is for youth in guardianship or who have been adopted. Let's talk about: Healthy Relationships, Forgiveness, Self-Compassion, Achieving Goals, Transforming Pain to Power, Independence!
read more >