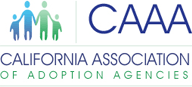 Event Date:
Mar 27 - Mar 28, 2020
8:30 AM to 5:00 PM
Location:
Oakland Asian Cultural Center
388 9th Street
Oakland, CA 94607
Visit Website
Ticket: $150
Event Info
The California Adoption Conference is a two-day event featuring talks and workshops for adoptive and foster families, adult adoptees and foster alums, birth parents, and adoption professionals. "Adoption is a lifelong journey," says Beth Hall, Executive Director of Pact, An Adoption Alliance, and one of the conference organizers. "Placement is only the beginning—everyone involved needs ongoing education and support. That's why programs like the California Adoption Conference are so important. We're trying to provide something for all members of the constellation—anyone whose life has been touched by adoption or foster care."
Each day the conference begins with a morning keynote presentation followed by lunch. In the afternoon, participants choose from a variety of workshops to delve deeper into topics such as open adoption, transracial adoption, attachment, and searching for first/birth family along with panels featuring birth/first parents and adopted adults. There are sessions specifically for prospective adoptive parents, first/birth parents as well as adoption professionals, educators and extended family members.
Register Now