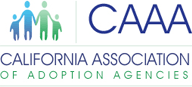 There are over 55,000 children in foster care in California. Children enter foster care because of abuse or neglect. Most reunify with their birth family, however if a child's birth family is unable to care for a child, the child then needs a permanent, loving, adoptive family. While in foster care, children may live temporarily with extended family members, with a foster family, or in a group home. Meanwhile, social workers help their birth families. If a family's problems can't be resolved, the county social workers try to find a safe and loving adoptive family for the child.
The age range of children in foster care ranges from infants to teenagers. Virtually every race, ethnic group, and socioeconomic category is represented. However, there is the greatest need for adoptive families for African-American and Latino children, older youth, children with medical and developmental needs, and sibling groups. Before a child is placed with an adoptive family, the child's caseworker will disclose all of the information that the county has about the child – including the child's strengths, challenges, and needs.
If you are interested adopting a child or children from foster care, the first step is to find an agency to work with. There are usually low or no adoption agency fees to adopt from foster care.